Rumah Kita is a former coconuttree plantation of 9000 sq. mtr. The garden at the back is about 6000 sq. mtr. and you will find here coconut trees, mango- papaya- end banantrees, and other fruittrees as rambutan (lychee) and Sirsak. The garden ends in a small river (kali). On the other side of the kali you can see the farmland with rice fields. Across the rice fields you see the main road to Banyuwangi and in the distance the Gunung Raung volcano
At the left of the garden is a wall covered with bushes, plants and flowers and to the right is a separation with the neighbours consisting of trees and bushes.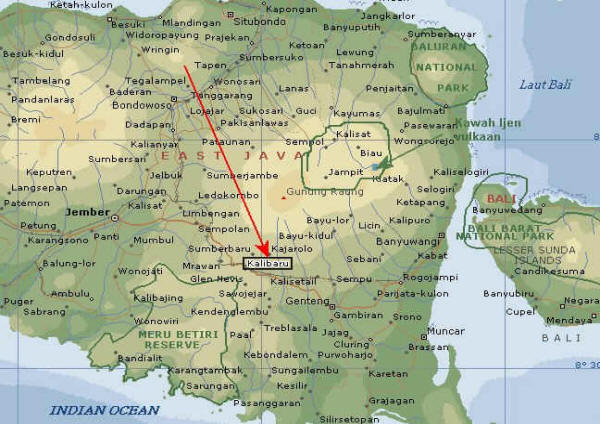 A walk to the mainroad takes about 5 minutes and Bemo's (local minibus) to Kalibaru pas every 10 - 15 minutes. Onward journey from Kalibaru to the next destination can be done by public transport (bus/train) but we can also arrange private transport to Sanur, Kuta, Candi Dasa or Lovina on Bali or to other cities in Java as far as Yogyakarta.